Fiber Care Carpet Cleaning & Repair is the local leader in professional deep cleaning and sanitation for carpets, rugs, hardwood floors, and upholstery in North Bay, SF, and surrounding cities.
We best carpet cleaner in the city offering top-quality services at rates nobody can beat.
Welcome to Fiber Care Carpet Cleaning and Repair, the premier top-notch carpet cleaning and repair service provider in the San Francisco Bay Area. Our company is dedicated to providing our clients with professional, high-quality, affordable cleaning solutions that are second to none.
At Fiber Care, we understand that maintaining the cleanliness and appearance of your carpets is crucial for the health and comfort of your home or business. That's why we offer comprehensive services that cater to all your carpet cleaning and repair needs. Whether you need a routine cleaning or a more extensive restoration, our team of skilled technicians has the expertise and equipment to get the job done right.
Professional and reliable carpet cleaning for commercial & residential clients.
Our services include deep cleaning, stain removal, pet odor removal, water damage restoration, and carpet repair, among others. We use only the most advanced cleaning techniques and eco-friendly products to ensure that your carpets are thoroughly cleaned and sanitized without any harmful chemicals.
What sets us apart from other carpet cleaning companies in the Bay Area is our commitment to excellence and customer satisfaction. We go above and beyond to ensure that our clients are completely satisfied with our services, offering a satisfaction guarantee on all our work.
So, if you're looking for a reliable and trusted partner for all your carpet cleaning and repair needs, look no further than Fiber Care Carpet Cleaning and Repair. Contact us today to schedule a consultation and experience the difference of working with the best in the business.
Fiber Care Carpet Cleaning chiefly employs a steam cleaning system with a truck-mounted unit. Hot steam kills many types of germs on contact as a strong vacuum extracts the germs, dirt, dander, allergens, and other environmental pollutants from deep inside the carpet fibers.
Your carpets are valuable — do not induce them to unqualified or careless carpet cleaners! Fiber Care Carpet Cleaning takes pride in our understanding of specialty fibers and cleansing procedures for all sorts of carpets such as Orientals and other fine rugs.
In Fiber Care Carpet Cleaning, Inc. we wash over simply your carpets. Our complete lineup of upholstery cleaning solutions will improve the attractiveness of your décor and match your carpet cleaning. Upholstery cleaning is the best method to put the finishing touches on your area, giving it renewed glow.
Fiber Care Carpet Cleaning and Repair specializes in stain removal. Our highly trained Fiber Protection technicians use wet and dry extraction methods. The knowledge we have gained through years of experience will give you the peace of mind that you would want when you decide who should clean your carpets and upholstery.
GET A FREE ESTIMATE TODAY!
Feel free to contact us at any time!
Courteous, expert technicians trained on the latest carpet cleaning equipment will make sure that you're 100% satisfied with Fiber Care Carpet Cleaning Bay Area.
« Convenient appointments to fit your busy schedule - including Saturdays.
« Extra attention paid to trouble spots and heavy traffic areas.
« Truck-mounted equipment, for more powerful extraction and quicker drying.
« Specialized Fiber Protection protectors and deodorizers.
« Your carpet is groomed, allowing it to dry faster, and distribute the carpet protector and deodorizer evenly.
« FREE in-home carpet and upholstery cleaning estimates.
« No hidden charges and Fiber Care's Guarantee of Satisfaction.
Get a Question? Get your Answer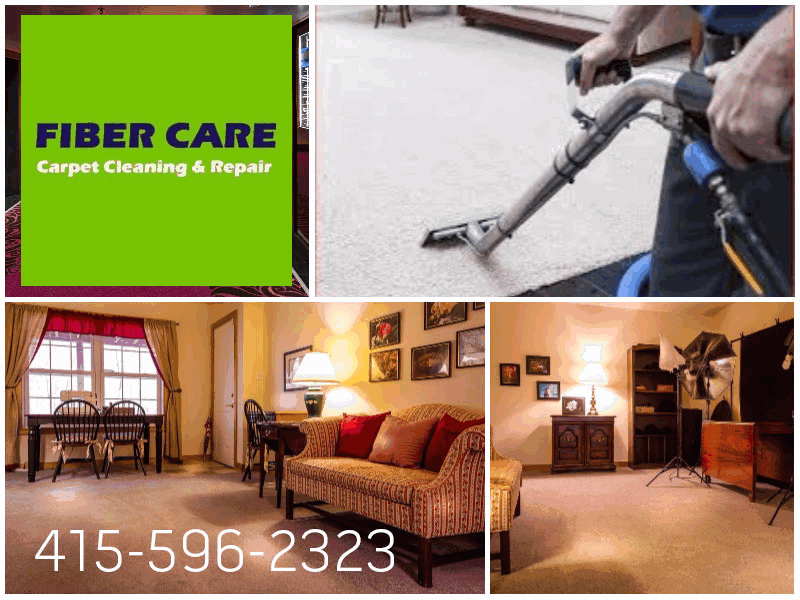 Fiber Care Carpet Cleaning and Repair - Powerful Equipment for Superior Results
Fiber Care Carpet Cleaning and Repair uses only the most powerful and advanced equipment for all our carpet cleaning and repair services. Our team of professionals arrives at your home or office fully equipped with all the necessary machinery to tackle even the toughest stains and dirt.
Our powerful machines utilize high temperatures and pressure to efficiently break down dirt and grime from carpet fibers. Our hose applies strong suction to extract all particles, leaving your carpets looking and feeling clean and refreshed.
Our commercial-grade equipment provides superior results to rental machines, eliminating odors, stains, and other debris from carpets. Plus, we have powerful spot removers to treat even stubborn stains and apply a stain-resistant protection coat to prevent future spots from forming.
Before selecting the best carpet cleaner in your area, it is essential to do extensive research. At Fiber Care Carpet Cleaning and Repair, we take great pride in our quality of service and customer satisfaction. We urge you to ask friends and family for references as well as check with the Better Business Bureau to confirm our track record for providing high-quality services.
Our team of executives will collaborate with you to identify your individual requirements and select the most effective cleaning methods, stain removal treatments, and protection solutions for you. Contact us now and discover the difference our powerful equipment and superior customer service can make for your carpets!
Fiber Care Carpet Cleaning meets you at any address in Northern Bay Area. Just Call us or book an appointment!
Novato
San Anselmo
Petaluma
Greenbrae
Marshall
Tomales
Pt. Reyes Station
Nicasio
Bolinas
Lagunitas
San Geronimo
Woodacre
Fairfax
Sausalito
Belvedere / Tiburon
Mill Valley
Corte Madera
Larkspur
Kentfield
Ross
Petaluma
San Francisco
Santa Rosa